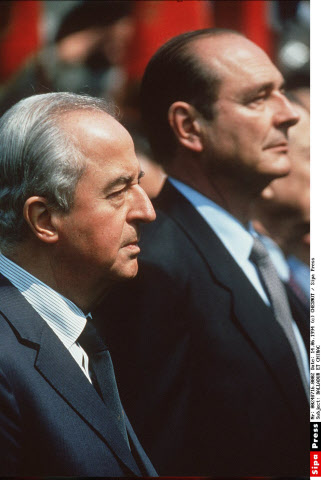 BALLADUR – CHIRAC, MENSONGES ET TRAHISONS, de Jean-Charles Deniau / BALLADUR – CHIRAC, LIES AND TREASONS, by Jean-Charles Deniau
Réalisation : Jean-Charles Deniau
Filmmaking : Jean-Charles Deniau
Date de diffusion : Jeudi 23 mars à 23h15
Broadcasting date : Thursday, March 23 at 11:15pm
Pays : France
Country : France
Durée : 60 minutes
Time : 60 minutes
Synopsis :
En 1995, la France a connu l'élection présidentielle la plus inattendue et la plus mouvementée de ces dernières décennies.
Au coeur de la campagne, le combat fratricide entre deux hommes issus du même camp : Jacques Chirac et Edouard Balladur.
Le 7 mai, après deux tentatives infructueuses, Jacques Chirac est enfin élu président de la République. Il a vaincu la gauche, mais il a surtout vaincu le pire des adversaires : Édouard Balladur son ami, son conseiller, l'homme qu'il a placé à Matignon deux ans plus tôt dans l'espoir qu'il lui prépare le terrain, et dont personne ne soupçonnait les visées élyséennes…
Entre coups bas, mensonges et « affaires », c'est toute la droite qui s'est déchirée comme rarement dans son histoire lors de cette bataille à ciel ouvert.
A base d'archives jubilatoires et d'interviews savoureuses avec les principaux protagonistes et observateurs de l'élection de 1995, dont Edouard Balladur lui-même, cette comédie du pouvoir raconte un moment clé de l'histoire de la Ve République, qui a tenu en haleine les Français au jour le jour.
Synopsis :
In 1995, France experienced the most unexpected and most turbulent presidential election
of recent decades. At the heart of the campaign, the fratricidal battle between two men from the same camp:
Jacques Chirac and Edouard Balladur. On May 7, after two unsuccessful attempts, Jacques Chirac was finally elected President of the
Republic. He beated the left, but he mostly defeated the worst enemy: Édouard Balladur his
friend, his advisor, the man he had placed at Matignon two years earlier in the hope that he
would prepare the ground for him, and whose no one suspected the Targeted Elysian … Between low blows, lies and « business », it is the whole right that has been torn as rarely in
its history during this open battle. Based on jubilant archives and tasty interviews with the main protagonists and observers of
the 1995 election, including Edouard Balladur himself, this comedy of power recounts a key
moment in the history of the Fifth Republic, which Held the French on a day by day.
Production :