FOREIGN BODY, de Raja Amari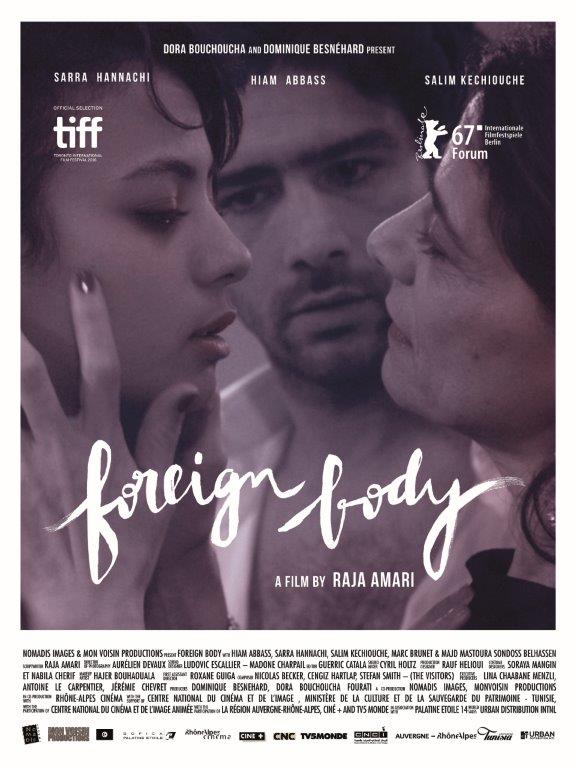 FOREIGN BODY, de Raja Amari / JASSAB GHARIB, by Raja Amari
Réalisation : Raja Amari
Filmmaking : Raja Amari
Pays : France / Tunisie
Country : France / Tunisia
Durée : 92min
Time : 92min.
Année : 2016
Year : 2016
SÉLECTION OFFICIELLE FORUM BERLINALE
OFFICIAL SELECTION FORUM BERLINALE
Presse internationale et allemande
International and german press
Synopsis :
Samia, échoue comme beaucoup de clandestins sur les rivages de l'Europe. Hantée par l'idée d'être rattrapée par un frère radicalisé qu'elle avait dénoncé, elle trouve d'abord refuge chez Imed une connaissance de son village, puis chez Leila pour qui elle travaille. Entre les trois personnages, le désir et la peur exacerbent les tensions…
Synopsis :
Samia immigrates to France illegally.
Obsessed by the idea her radical islamist brother might be stalking her, she first finds refuge with Imed, an acquaintance from her village, then with Leila, her employer.
Desire and fear heightens the tension between the three protagonists.
Production : Mon Voisin Productions
Ventes Internationales : Urban Distribution
International sales : Urban Distribution