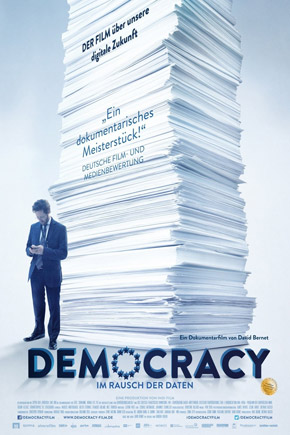 DEMOCRACY, de David Bernet / DEMOCRACY, by David Bernet
Réalisation : David Bernet
Filmmaking : David Bernet
Date de sortie : 16 novembre 2016
Release date : November 16, 2016
Pays : Allemagne
Country : Germany
Durée : 100min
Time : 100min.
Synopsis :
DEMOCRACY nous entraîne dans un monde réputé impénétrable : celui du kafkaïen processus législatif européen. À la façon d'un thriller politique, le film retrace la longue lutte politique du parlementaire Jan Philipp Albrecht et de la commissaire européenne Viviane Reding pour une nouvelle loi sur la protection des données personnelles.
DEMOCRACY takes us into a world renowned as impenetrable: that of the Kafkaesque European legislative process. As a political thriller, the film traces the long political struggle of the parliamentarian Jan Philipp Albrecht and the European Commissioner Viviane Reding for a new law on the protection of personal data.
Deux longues années semées d'embuches, de discussions, d'intrigues en tous genres, accélérées par les remous de l'affaire Snowden, afin de garantir les libertés et protéger les citoyens européens dans le futur numérique.
Two long years full of pitfalls, discussions, intrigues of all kinds, accelerated by the tumult of the Snowden affair, to guarantee freedoms and protect European citizens in the digital future.
Une histoire unique qui réussit à rendre sensible et attachante l'architecture complexe de la démocratie contemporaine.
A unique history that succeeds in making the complex architecture of contemporary democracy sensitive and engaging.
Distribution : Seppia